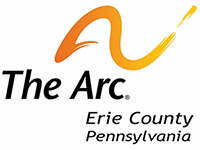 For Immediate Release

Lisa Razza, Director of Communications
412.995.5000 x410
lrazza@achieva.info

Erie, PA (2/10/2022) - The Arc Erie County (PA) is pleased to announce the addition of two employees tasked with sustaining and building upon its mission of advocacy and support for people with intellectual and developmental disabilities and their families. Erie native Katherine Reim will serve as Executive Director. Wendi Wojtecki has been hired as a disability advocate.

Reim will oversee the operations of The Arc Erie County, building upon its 60-year history. The Arc Erie County became an affiliate of The Arc of Greater Pittsburgh, a subsidiary of the Achieva Family of Organizations, on January 1, 2022. Reim said, "I am pleased with the opportunity to provide continued resources to children and adults with disabilities and their families in northwestern Pennsylvania. The recent affiliation with Achieva is a natural fit, pairing two organizations with a history as trusted advocates."

Reim is no stranger to Achieva or the Erie area. She has lived in Erie for 31 years and has worked in the disability field since 1994, helping people with all types of disabilities get connected to supports and services that increase independence and assure control over their lives. She has been an Erie-based Regional Trust Liaison for the Achieva Family Trust for five years, a role she will continue alongside the position of Executive Director. Before that, Reim served as a Program Manager for Service Coordination Unlimited. Reim is currently on the Board of Directors for the Pennsylvania Assistive Technology Foundation and a volunteer with Make A Wish.

Wendi Wojtecki is a parent of a child with a disability who has vast experience with family support and a history of educational advocacy. She is knowledgeable on special education inclusion, home and community-based services (HCBS), employment supports, transitioning from school to adult life, and government benefits. Wendi will serve as an extraordinary advocate to anyone in Erie County who needs support related to intellectual and developmental disabilities.

The hiring of these two professionals follows the affiliation announcement in early January. That action resulted in The Arc Erie County becoming a subsidiary of The Arc of Greater Pittsburgh/Achieva but retaining its separate 501c3 non-profit corporation status. All charitable contributions made to The Arc Erie County will stay local to benefit children and adults with intellectual and developmental disabilities and their families living in Erie County.

Reim and Wojtecki can be reached via multiple forms of communication:
Mail P.O. Box 9155, Erie PA 16505

Katherine Reim:
Email kreim@achieva.info
Phone 1.888.272.7229 Ext. 620
Cell 814.504.5556

Wendi Wojtecki :
Email wwojtecki@achieva.info
Phone 1.888.272.7229 Ext. 490


###


For over 60 years, thanks to a team of passionate supporters, The Arc Erie County has served people with disabilities who need and deserve the strongest Arc chapter possible.

Achieva is a non-profit organization located in southwestern Pennsylvania providing lifelong support to people with disabilities and their families. Achieva envisions a community where all people with disabilities lead lives of personal significance. Our services range from early intervention therapies and employment supports to special needs trusts and supports in the home and community. Achieva advocates for, empowers, and supports people with disabilities and their families throughout their lives. Achieva and its group of organizations are affiliated with The Arc of Pennsylvania and The Arc of the United States.