By Steve Suroviec, President and CEO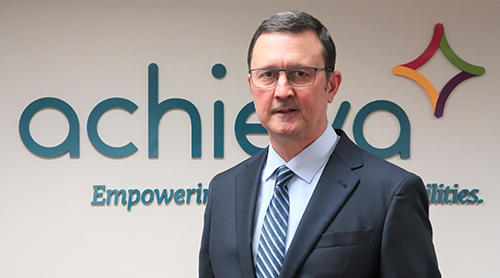 March is National Developmental Disabilities Awareness Month. This is something politicians do every year, passing resolutions or signing proclamations that say all the right things but do they make much difference in the lives of people with developmental disabilities and their families?

Since it's "awareness" month, allow me to ask are you aware that the Governor's recent budget failed to include sufficient funds to compensate direct support professionals (DSPs) at a level commensurate with his own state workers doing the same job?

Are you aware that the Wolf Administration is only raising rates for supported employment by 0.9 percent (i.e., services that help people with developmental disabilities get and keep real jobs in their community)? Are you aware that state government rates haven't been increased since 2018 and the regulations don't require the state to even look at rates again for another 3 years? In one month alone (February 2022), inflation was 0.8 percent!

Are you aware that disability advocates, families, and service providers were advocating with the Wolf Administration for months to add an additional $65 million to the Governor's budget proposal to bring DSP compensation to a level on par with state DSPs but they chose not to do it?

Are you aware that in response to the Wolf Administration's proposed rates, hundreds and hundreds of people submitted comments documenting with facts and data why the state's proposed rates were too low to sustain the community-based service system, yet when the administration finalized their rates a few weeks ago they essentially ignored all the public comments? Not a single rate for traditional community services was changed.

Are you aware that the General Assembly has the power to add the $65 million to the state budget and direct the state Department of Human Services to add it to their rates across the board, and in particular increase supported employment rates to something higher than 0.9 percent?

If you care about this topic, are you aware that you have the ability to influence things?
First, you can contact your state representative and state senator to urge them to increase funding in the state budget by $65 million in state funds to help people with intellectual disabilities/autism and the DSPs who support them.

Second, when it comes to the employment of people with disabilities, you can take matters into your own hands. If you own your own business, hire a person with a disability. If you don't own your own business, then check with your boss or your company's website and see whether they place an emphasis on hiring and retaining qualified talent with disabilities. If they don't, then tell them they should. And if they need help, then tell them to contact Achieva's Business Services team - we can help find, onboard, and support people with disabilities in their workplace.
Enjoy March – National Developmental Disabilities Awareness Month!

Read the full Compass Newsletter