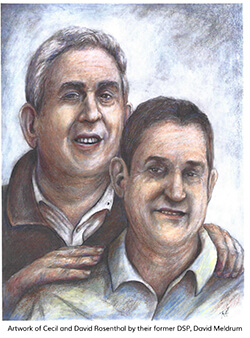 Pittsburgh, PA ( September 14, 2022) - The family of the late Cecil and David Rosenthal have joined Achieva's efforts to honor employees during Direct Support Professional (DSP) Recognition Week (September 11-17). Each of Achieva's 389 DSPs will receive a $50 Giant Eagle gift card purchased via the
Cecil and David Rosenthal Memorial Fund
. Giant Eagle contributed $1,000 in gift cards to support the effort.
The Fund was established in 2018 by the Achieva Board of Trustees following the October 27 tragedy at the Tree of Life Synagogue. Donations came from around the world to honor and remember victims Cecil and David Rosenthal, who had received services from Achieva. The Fund is used to support community engagement activities pursued by people with intellectual or developmental disabilities (IDD), and it can be used for those who care for and support people with IDD - DSPs.
DSPs are the backbone of IDD providers. They care for others in a way that mirrors the treatment typically reserved for family members. "We will remain forever grateful for the staff that worked with our boys. DSPs offered support for them to do what they loved, such as going to synagogue every week and engaging in other social activities. They truly enjoyed life!" said Joy and Elie Rosenthal, Cecil and David's parents.
Achieva President and CEO, Steve Suroviec, said, "DSPs are appreciated year-round, but we're pleased that, with the support of the Rosenthal Fund donors, the Rosenthal Family, and our friends at Giant Eagle, we can give a token of our appreciation to those who assist people with IDD lead lives of personal significance during DSP Recognition Week."
The DSP gifts keep with the tradition to "
Love Like the Boys
" by completing acts of kindness in memory of the Rosenthal brothers.
Download High Res Graphics
###
Achieva is a non-profit organization located in southwestern Pennsylvania providing lifelong supports to people with disabilities and their families. Achieva envisions a community where all people with disabilities lead lives of personal significance. Our services range from early intervention therapies and employment supports to special needs trusts and supports in the home and community. Achieva advocates for, empowers, and supports people with disabilities and their families throughout their lives.