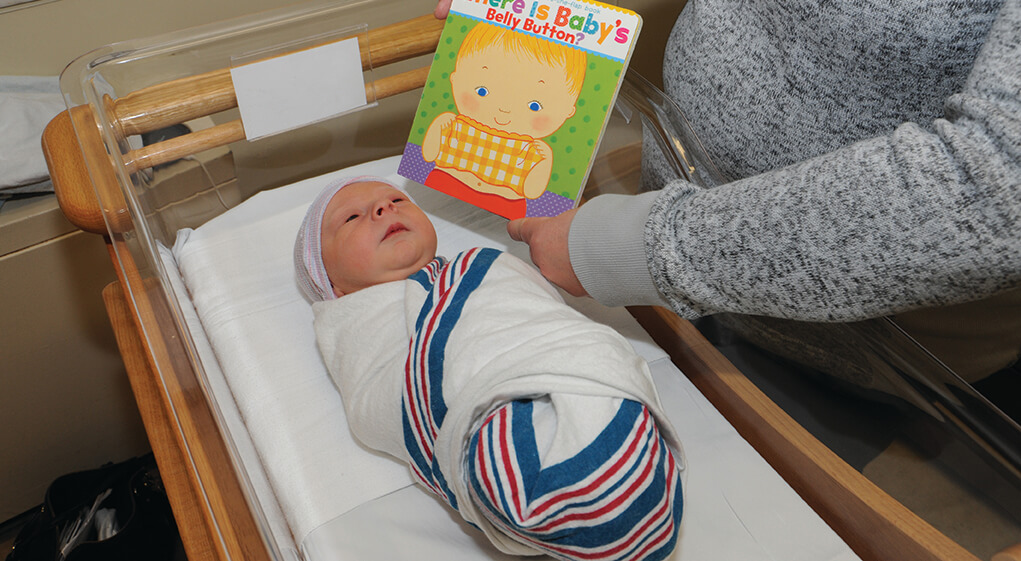 When Achieva Early Intervention's Outreach Coordinator, Emily Hayburn, started the Books at Birth initiative in February 2018, the topic couldn't have hit closer to home.

She was "super, super" pregnant with her fourth child. And as the first person to hold her position, she was challenged with reaching potential EI families as early as possible, a strategy known to make interventions as effective as possible.

So, she looked toward the beginning of life, in a labor and delivery unit, where she'd be very soon.

"I thought the best way to do this was to work from the ground up, and create some really great community partnerships, to partner with the people who work directly with the people we need to talk to," Emily said.

To create a connection and be of service to families, she thought about what they might need, until one fact cemented the direction of the program: "In my experience talking with our therapists, there are many families in Allegheny County where the Bible was the only book in some houses."

Books at Birth would ensure that participating families had at least one high-quality children's book – approved by Achieva's EI experts – and monthly emails to help track their babies' development. The labor and delivery unit at Allegheny Health Network's Forbes Hospital was the first partnership, followed by the neonatal intensive care unit at AHN West Penn Hospital, and as of March 1 — just one day shy of Read Across America Day — the program expanded to AHN Jefferson Hospital's labor and delivery unit.

On that Wednesday, representatives from Achieva and Jefferson Hospital visited a brand new family — Kaitlin, Braden and baby Kyson — who welcomed the opportunity to be the "first family" of the newest Books at Birth partnership.

"We're beyond grateful to Achieva for their commitment to early childhood literacy and development, and for selecting our award-winning labor and delivery team as a local partner in their efforts," said Joy Peters, chief nursing officer at AHN Jefferson Hospital. "From safe sleep practices to lactation support and more, our clinicians work closely with new families to best position them for long-term success when they return home. Books at Birth further builds upon this work by promoting the fundamental importance of early childhood reading for baby's social and cognitive development. We look forward to launching this initiative at our hospital to deliver storybooks as special birthday gifts to the hundreds of babies we welcome into the world each year."

"We are thrilled to expand Books at Birth to Jefferson Hospital and welcome these new babies to the Achieva Early Intervention Books at Birth family," said Sharon Richards, Achieva's Vice President of Early Intervention. "Books at Birth has established a network of support -- both within the community of other Books at Birth families, as well as within Achieva Early Intervention -- which aims to make new and young families feel cared for from day one."

Since its inception, Books at Birth has greeted over 10,000 new babies with books such as "Where Is Baby's Belly Button?" By Karen Katz and "The Whales on the Bus" by Katrina Charman, chosen for their age appropriateness, capacity to encourage early literacy, speech and language development, caregiver bonding, gross motor skills, representation of diverse groups and more.

Because books encourage these facets of development, they can also help identify children who don't respond as expected. With monthly milestone guides, Books at Birth families are empowered to ensure their children are thriving developmentally. The importance of that mission is what drives Achieva's Early Intervention experts to celebrate the addition of Jefferson Hospital into the Books at Birth network, and aim toward someday expanding the program throughout the region.

"The inherent rule of Books at Birth was to make moms and dads and caregivers start thinking about early intervention long before they need it. And what are developmental milestones, and that you don't have to be afraid to track these kinds of things," Emily said. "That's the goal: For parents to be aware of what their baby is doing, and if your gut says something's not right, call us. Let us help you figure it out."

Already a Books at Birth family? Tag us in your journey with #booksatbirth and #booksatbirthbaby.

Questions or concerns about your child's development? For more information about Achieva's Early Intervention services, contact us or call 412.995.5000 x487.