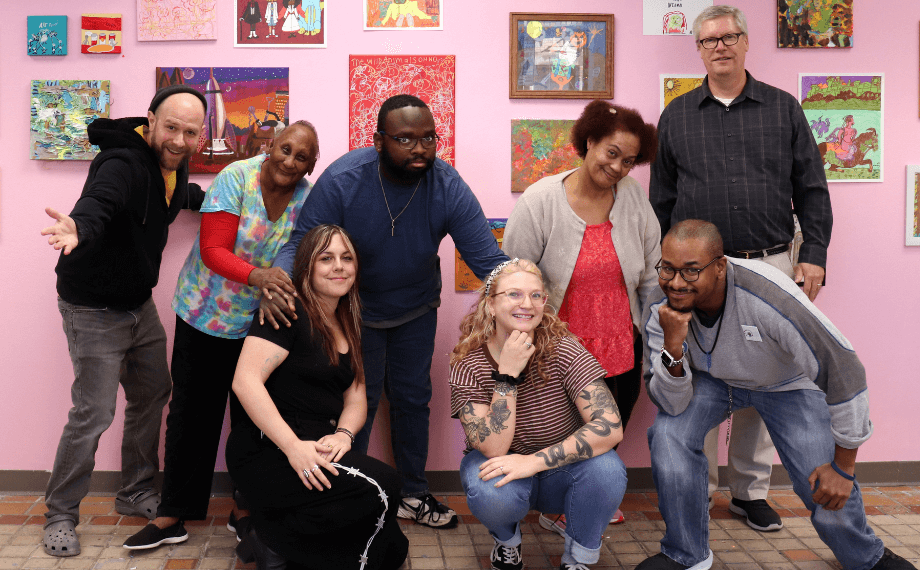 Left to right: Sam Berner, Charmette Young, Steph Neary, Charlie Wallace, Cicely Murray, Wendy Davis, Darian Johnson and Lowell King

Comparisons between pre- and post-pandemic America will likely go on for decades. Masks, handshakes, sanitizer, work-from-home and more are universal inclusions, but at VaultArt Studio there's one more: Britney Spears vs. Whitney Houston.

VaultArt is a project of Achieva that provides professional-level art instruction and career training to a select group of artists who happen to have disabilities. Several times each year, their work space — in the heart of Garfield's arts district — transforms into a gallery where their best work is for sale, and 100% of the proceeds go back to the artists.

The most popular of those transformations are "First Fridays on Penn," a family-friendly, neighborhood-wide gallery crawl and block party with live music, artists of all kinds, food trucks and more.

In 2019, the Vault artists chose a hugely popular Britney Spears theme for one of these First Friday events. Since then, many of the artists have waited for the chance to conjure the same excitement in the name of Whitney Houston.

After taking the winter months off for the first time, VaultArt will rejoin the First Friday festivities on May 5 — the first Friday in May — for its season kick-off, themed "Dance with Me, Whitney," a play on the singer's 1987 hit "I Wanna Dance with Somebody (Who Loves Me)."

While almost all of the art presented that night will be Whitney Houston-themed, there's no getting around one simple fact: "Some of the artists are wild about her, and some are indifferent," said VaultArt Studio Creative Director Steph Neary.

Those who don't wanna dance have found their own interpretations. Sean Regis Traynor — known for his large, canvas doll cutouts — will celebrate other female pop artists, such as Paula Abdul and Kim Wilde. Sarah Harris — known for her abstract impressionist paintings — will create a party or crowd scene, as would be seen at a concert or club.

But when Ms. Houston requested to dance with someone who loves her, she might have been referring most to VaultArt artist Charlie Wallace, who can't help but to rattle off all of her hits when asked why he's so enamored with the artist: "She sings 'I Want to Dance with Somebody' and 'I Will Always Love You' and "How Will I Know?' and 'The Greatest Love of All' and … "

"Charlie comes to every First Friday with probably three bags full of art in various forms: paper cut-outs of dolls, Barbie dolls he's retrofitted into the dolls he wants them to be. They're incredible," Steph said.

While plenty of Charlie's studio-created work will be available, what he brings from home is stylistically very different, and none of it is for sale.

"I think he knows that, here, it's his job, and that the art here is for sale," Steph said. "I think he's making the dolls he wishes were made. If you come to the First Fridays, you can view the special, private collection he makes at home."

At May's event, that means his Whitney Houston and Bobby Brown dolls will be on display, which, in itself, throwbacks to 2019, when he stunned crowds with his renditions of Britney Spears and Justin Timberlake in their iconic all-denim get-ups.

"They're just incredible," Steph said. "They should be in museums."

Until then, maybe a few of his dolls will show up to artist Kim Bond's thought experiment — and June's First Fridays theme — "Welcome to the Rainbow Club."

There are no meeting dates or places. For Kim, "Rainbow Club" is a way of being. It's a "place" where you educate yourself about only the things you're interested in, with no drugs or alcohol allowed. And since she's wished to celebrate Pride Month, which is June, at the studio, the rainbows are extra meaningful.

In July, the studio will celebrate its sixth anniversary with a theme dreamed up by fiber artist Charmette Young: "Fine to Be Here."

On a piece of scrap paper, Charmette recently wrote:

My life is fine to be here
I look a-real
There is a good people here

And especially at July's First Friday, there will be "good" – make that "great" – art there.

"That's usually where we have pieces that are really stunning, and it's really curated down, so most people only have one or two pieces there," Steph said of the anniversary show. "We hold pieces like that throughout the year to have a really stunning display of talent."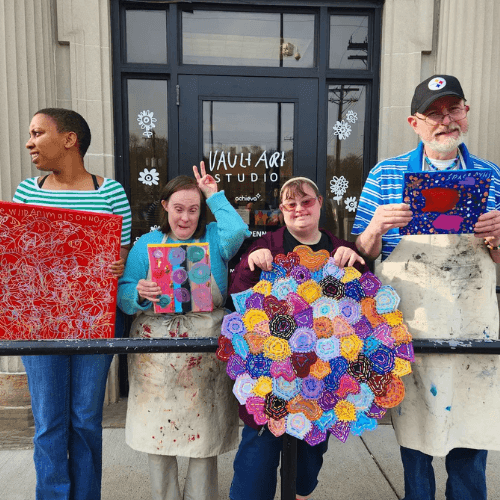 Left to right: Tarira Bundrige, Lauren McCoy, Maggie Kambic, and Herman Schuler


August's theme comes from artist, wordsmith and consummate Pittsburgher, Herman Schuler.

Entitled "Mars N'At," the theme will be focused on outer space and the Earthly natural world, which will include a large painting from artist Darian Johnson depicting a cottage in a not-quite-Earth, not-quite-outer-space landscape.

Speaking of cottages, September's theme, "Regular Houses," was chosen by artist Sean Regis Traynor, who felt moved by houses special to him from throughout his life. To prepare for this show, he depicted homes that have inspired him, but he also imagined others, which caused him to study architecture.

The theme also compelled Charlie Wallace to extend his repertoire, moving from celebrities to celebrities' houses or houses that are otherwise famous.

"Seeing his ability to draw landscapes and houses and the way his style still comes through on those is a really interesting thing for the viewer to see," Steph said. "They'll instantly know it's Charlie's work, but they've never seen Charlie like this before," which is part of the studio's goal.

Themes are a way for artists to express their interests and a means to entice guests, but they also compel artists to "push their portfolio so they can grow as people and artists," as Steph sees it.

Both the experience of trying something new and the art itself inspires connection between artists and patrons at First Fridays' "built-in block party" – a set of in-person connections that are never overlooked in a post-Covid world.

"Art is a leveling field. By asking questions about it, you can learn a lot about people," she said. "Going into an art gallery is an act of courage. Everyone here is giving everyone who comes through the door the OK to start painting."

First Fridays on Penn events at VaultArt Studio (5100 Penn Ave.) last from 7 p.m. until about 10 p.m. on the first Friday of each month from May through December.

Can't make it in person? Visit VaultArt's online store any time at www.vaultartstudio.org/shop.