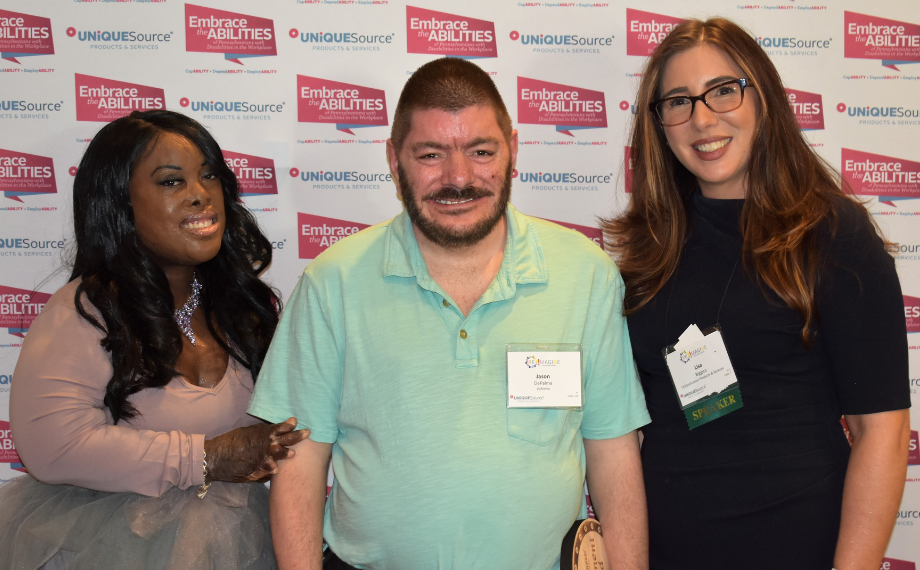 As an exceptional employee of Achieva's Cleaning and Janitorial crew, Jason DePalma (center) was honored at the UniqueSource Achievement Awards ceremony and banquet in Harrisburg. International speaker and author, Tanisha Carter (left) was the keynote speaker. Also shown (right) is Lisa Biggica, President/CEO of UniqueSource Products & Services.
When Jason DePalma starts work at 9 a.m. every Monday, Wednesday and Friday At the Kiski Valley Police barracks, everyone knows it: His positive attitude echoes through the halls as he greets everyone with a cheerful "hello."
Cleaning the restrooms comes next, except on Wednesdays, when a co-worker's schedule changes, and he works on trash removal instead.
More duties follow, and when he's finished, he looks to help co-workers finish their jobs — a seamless task for Jason since he's memorized each co-worker's responsibilities.
When something malfunctions, he fixes it. He's not known to miss work, and is eager to help when others do. And with his expansive knowledge of his own tasks and those around him, he's known as an asset to his supervisors.
That's why Jason was just honored in a big way … twice.
He's a longtime Achieva employee who's worked on two state janitorial contracts, first at the Greensburg Police barracks before his current role. Opportunities such as those are made known to nonprofits like Achieva through a company called Unique Source, which also hosts a yearly award to honor the best of those who work on the contracts they promote.
Each organization is allowed to recognize just a single individual to vie for the top prize. This year's nominee was Jason.
"He's someone who's been with us for quite a long time. He's extremely personable," said Josh Rizzo, Achieva's Cleaning and Janitorial Manager. "He communicates well with the police and with all the people we work with. As an employee goes, he does a lot of good things."
And as Josh wrote on the nomination form, "He has a strong personality that endears him to the customer, and allows him to help build trust that helps the business."
Jason — a self-proclaimed "people person" — said about his work: "My favorite part of the job is seeing my favorite coworkers, and helping my supervisor and co-workers."
Unique Source honors every nominee with a banquet in Harrisburg, which was held on May 8. But among them was one whose contributions rose above the rest and earned a $500 reward, Mr. Jason DePalma.
As soon as Josh told Jason about the award and banquet, he asked for all the details, knowing his brother and mother would go with him.
They did, and on Jason's first day back at work, he proudly showed off his plaque and certificates to all of the officers working that day, though parading awards through the barracks isn't unusual for Jason. He's also a Special Olympics athlete, and because of the friendships forged with the police officers, he's often asked about his recent competitions and newest medals.
This one from Unique Source, however, honors a different side of Jason.
"I wish I could have the attitude he has," Pennsylvania state police officer Sergeant Jordan Spillane said. "Whenever he's here, whatever job he's tasked to do, he never complains. He takes pride in it. It's evident that everybody here enjoys him being here. He's a great person."
And this "great person" is having a monumental 2023.
"Finding out I got this award, and getting my own apartment in the same year, that was really great," Jason said. "I'm really lucky."